Gaustatoppen is a paradise for ski enthusiasts, and no matter what your skill level is, the magical mountain has something for everyone who likes to feel adrenaline flowing in their blood.

With a day pass for the historic Gaustabanen tramway, you can easily reach the peak and then hike down the mountain, again and again.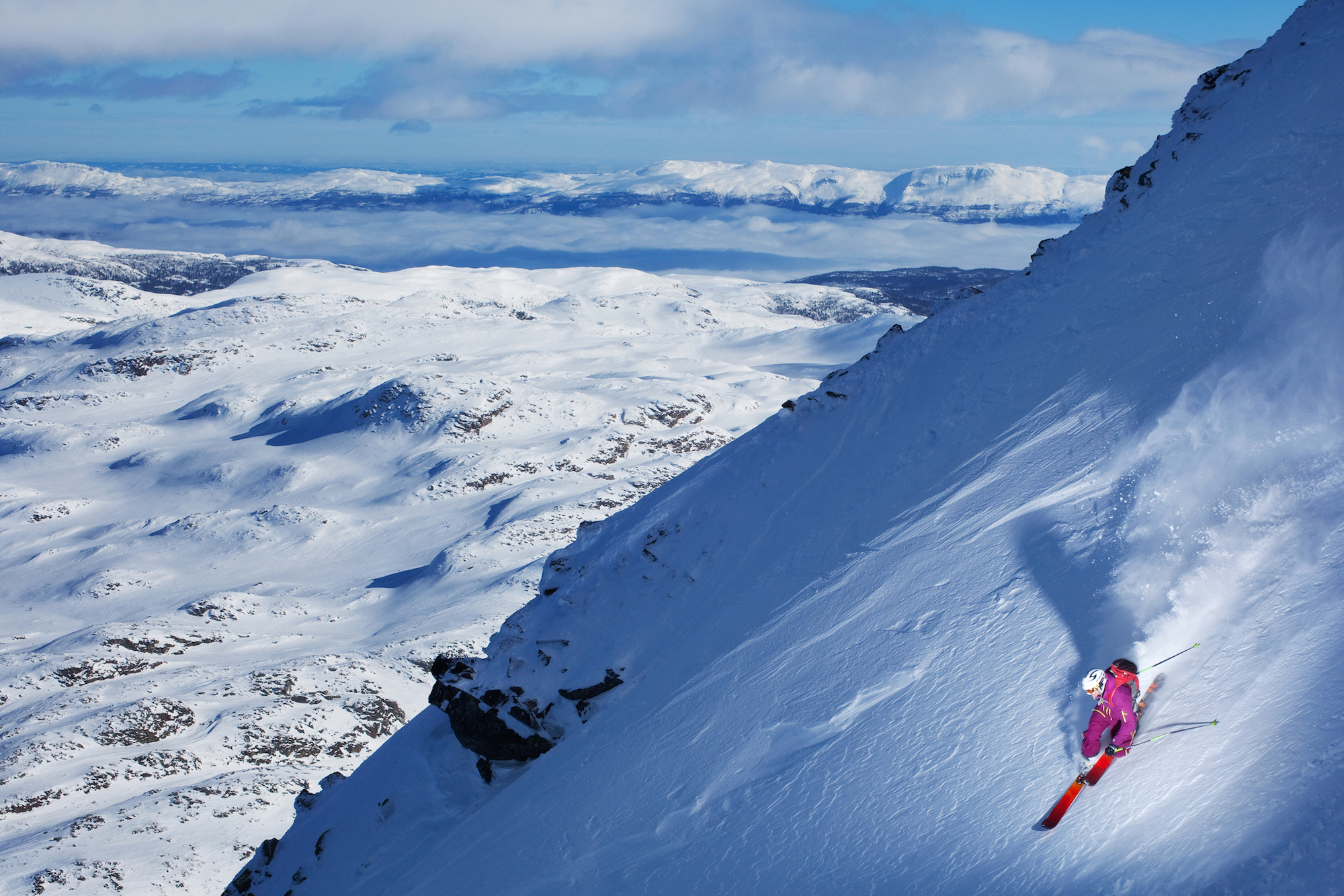 If you also enjoy skiing with a view, there is little that compares with Telemark's highest mountain.

"Gaustatoppen is one of the best places for skiing, and totally on par with the best sites in the Alps, the USA and Canada," says Torgeir Urdal.

He was born and raised in Rjukan, and Torgeir is very familiar with local conditions thanks to almost 40 years of experience as a skier on Gaustatoppen.
Safety and avalanches
Gaustatoppen Mountain is well marked and is accessible via stairs and trails. Keep in mind that all movement and skiing on Gaustatoppen Mountain is done at your own risk.

Avalanche Safety

1. Acquire knowledge, experience and good attitudes.
2. Always bring an avalanche beacon - transmitter and transceiver, probe and shovel while in avalanche terrain.
3. Check the avalanche warning at varsom.no and keep an eye on the weather forecast.
4. Learn to recognize terrain that is prone to avalanches in the areas you pass through.
5. Learn to know how to avoid injury: Plan your trip well and learn what to do if an avalanche occurs.
6. Take a course to learn more about avalanches, avalanche terrain and the avalanche hazard rating, even if you will not be passing through avalanche-prone terrain.
7. Check the terrain you will be passing through on geodata.ngi.no.

Source: Varsom.no, geodata.ngi.no
Distinctive mountain summit
He considers it difficult to compare Gaustatoppen with other ski terrain. The terrain is not groomed, so it's not like skiing at a resort with prepped slopes.

"You can encounter all kinds of conditions and terrain during a ski trip; whirling snow, snow crust, loosely packed snow, a lot of snow, little snow and big rocks," he says.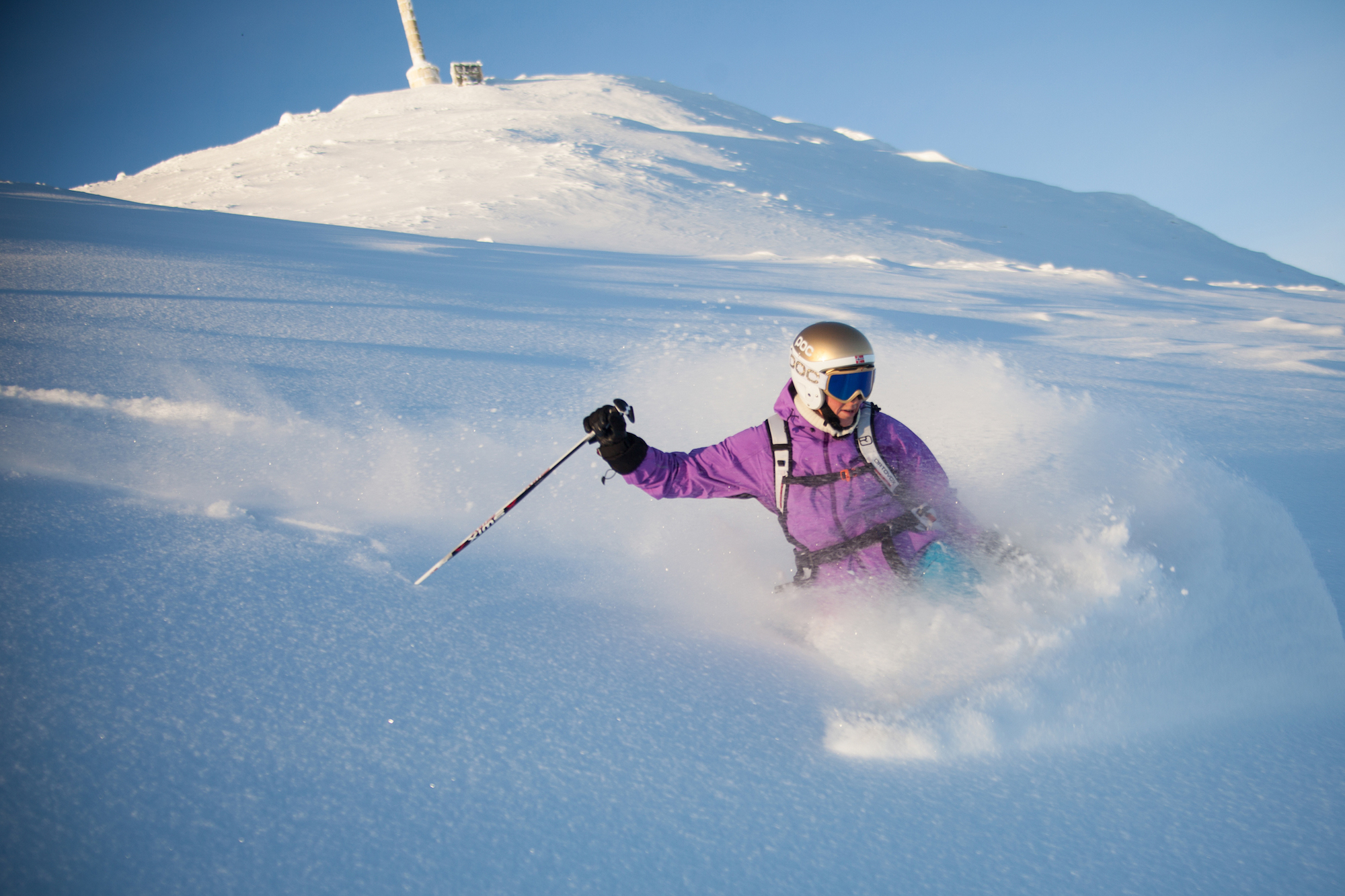 To find anything comparable in Norway, you must head to higher elevations, far above the tree line, to sites such as Galdhøpiggen and Jotunheimen where the wind is a significant factor.

"Gaustatoppen is a spectacular mountain. It's steep where you would want to ski steep, and has more gradual inclines for when you want to take it easy. The steepest sections have a gradient of well over 40 degrees. In comparison, the landing slope at Holmenkollen is 35.7 degrees at the steepest," says Torgeir.
Good knowledge of the terrain
Gaustatoppen is suitable for everyone, and is just as ideal for downhill skiing, snowboarding and telemarking, as it is for randonée skiing.

There is a waymarked trail from Tuddalstippen that goes down the Langefonn route for those who wish to enjoy a fantastic day on their own.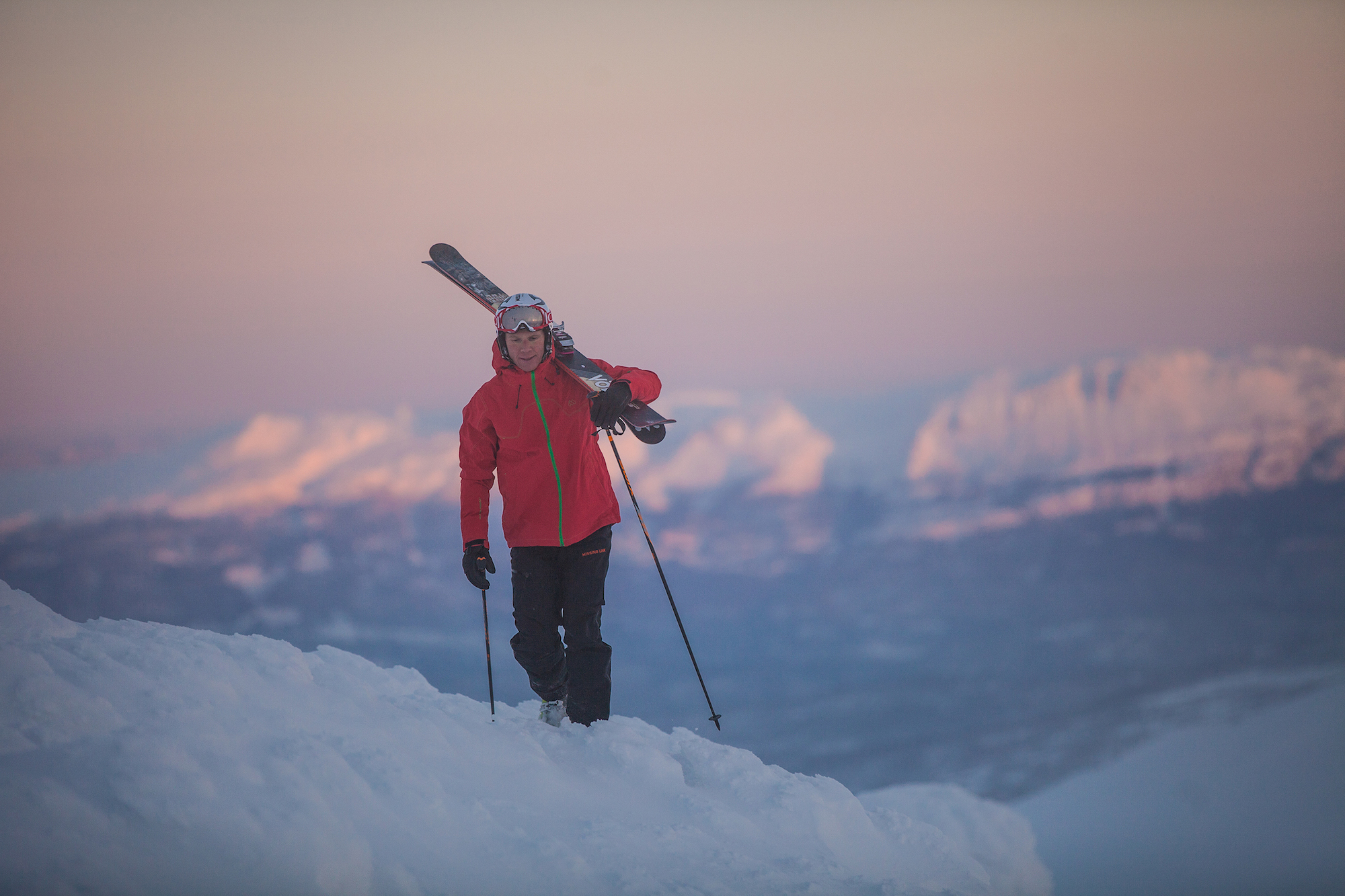 It's not a requirement, but we strongly advise that you ski down together with someone with good knowledge of the local terrain if you plan to set off from the ridge itself.
"The mountain generates a lot of wind. This creates hanging snowdrifts, which makes the summit prone to avalanches," says Torgeir.

You need to be especially cautious of easterly winds, and you must never ski under snowdrifts. Conditions change rapidly, and can change from one ski trip to the next one.

"There is always the risk of avalanches, and it is mostly skiers who trigger avalanches up here. If you intend to ski down the runs from the summit, you must have the necessary knowledge," says Torgeir.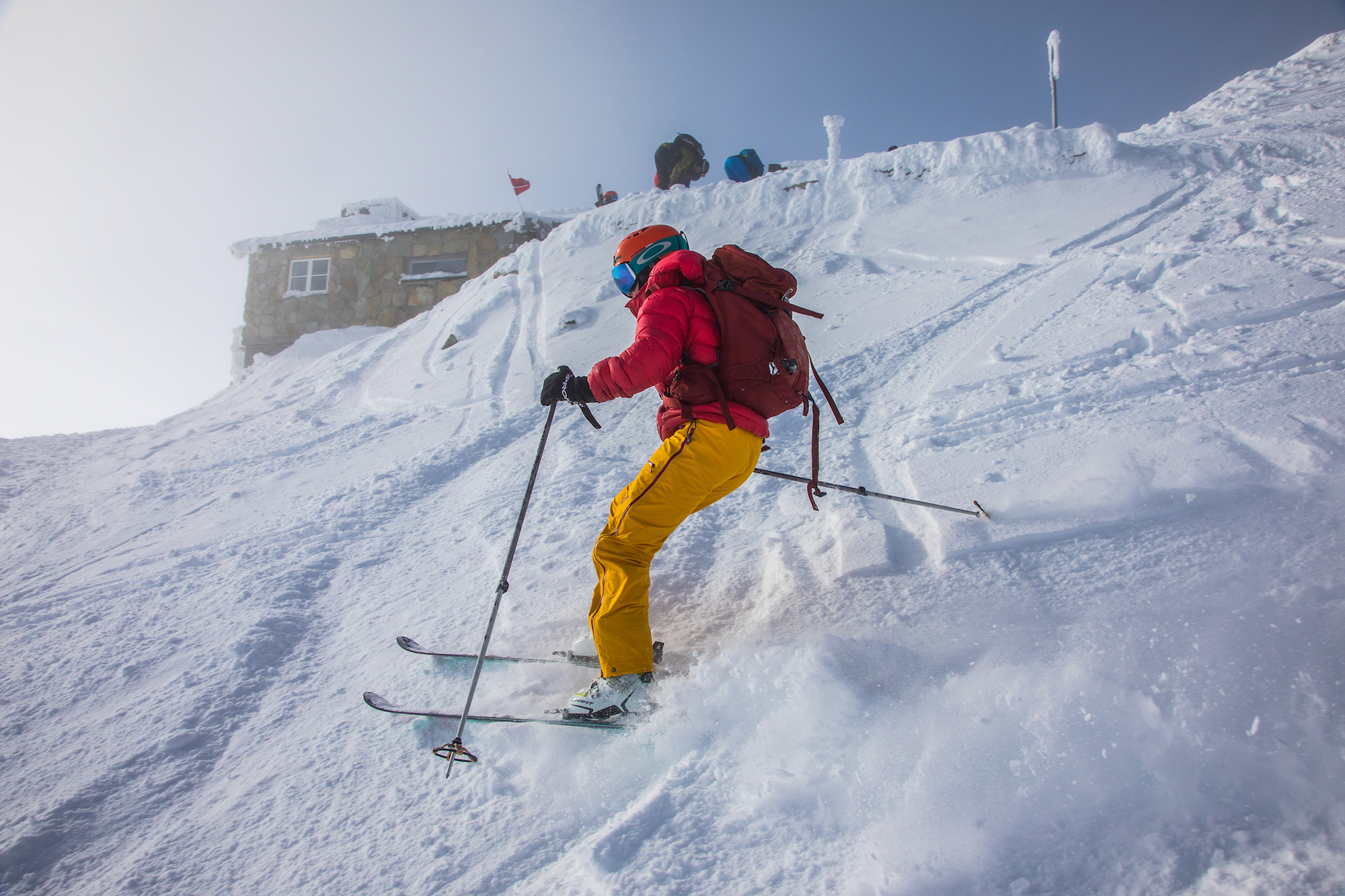 At your own risk
Another challenging aspect of Gaustatoppen is the fact that there are a lot of rocks. During strong wind, you run the risk of there being large rocks along the same track where it was just fine to ski earlier in the day.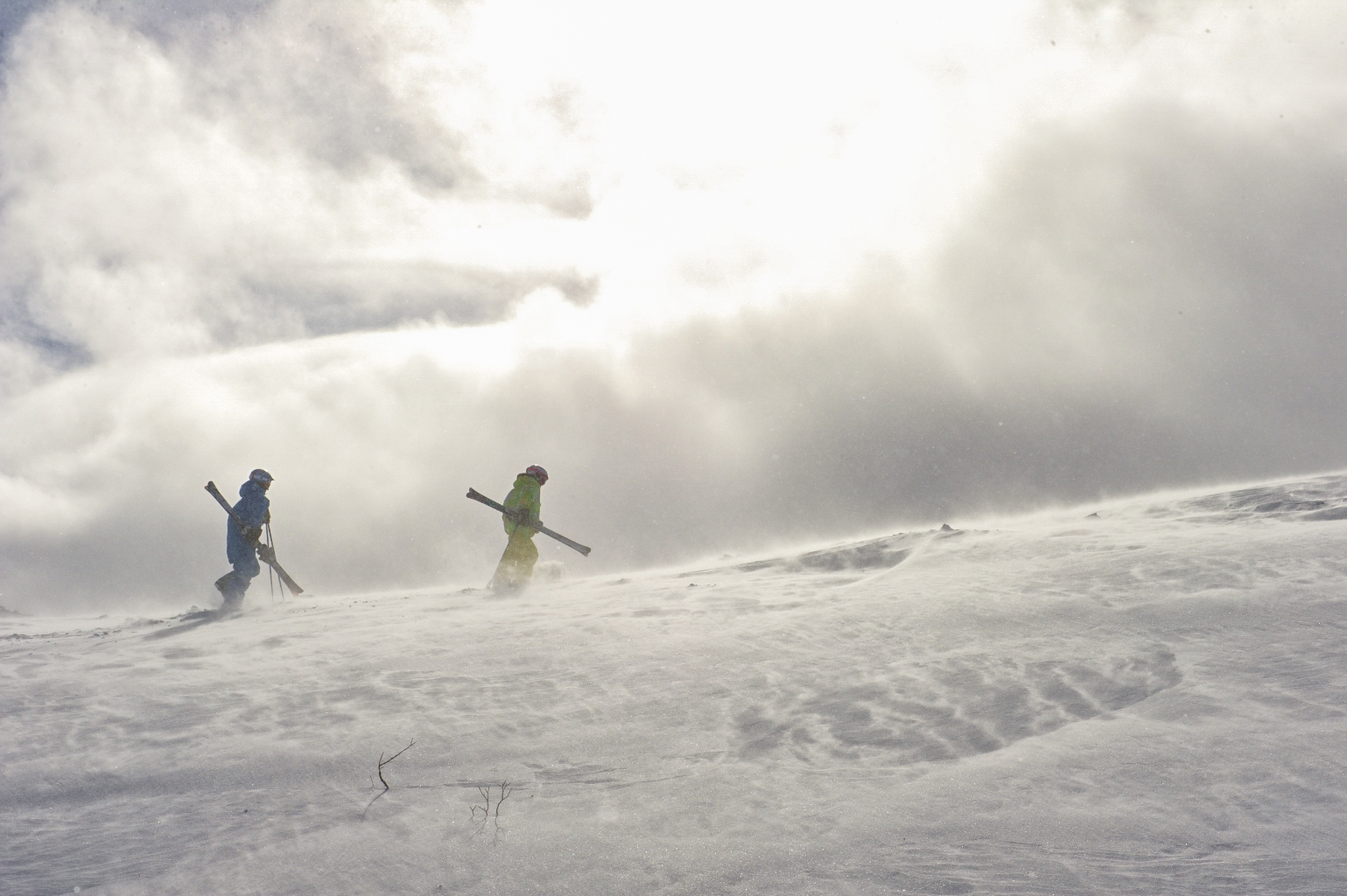 All movement on Gaustatoppen entails an element of danger, and you do so at your own risk. By taking all the necessary precautions, you are still in for a grand adventure on one of the most beautiful and most legendary mountain peaks in Norway.

"I've done a lot of downhill skiing in Europe, and Gaustatoppen is every bit as good as freeriding in the Alps," brags Torgeir.
MAGICAL TRIPS FROM THE SUMMIT ON GAUSTATOPPEN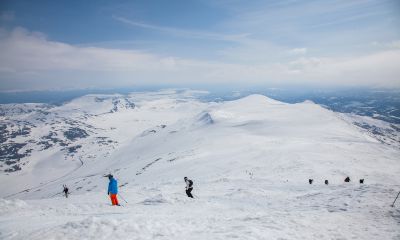 Everything is set on Gaustatoppen for visitors of all ages to have a fun day out. The waymarked trail is a medium-steep, un-groomed slope, which goes from Tuddalstippen and down to the entrance of the Gaustabanen tramway. The descent is 2.4 km long and has a gradient of just under 30 degrees at the steepest.
Since the route goes from the tunnel opening up top to the tunnel opening down below, it's just as easy to get up as it is to get down. At the summit, there is a lounge and toilets, and you can get in many trips during the day by purchasing a day ticket for the Gaustabanen tramway.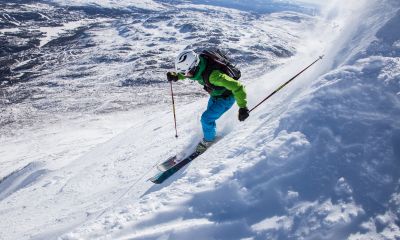 On the east side of Gaustatoppen, there are seven runs down from the ridge, where it is possible to ski. These runs are steep, with inclines from 40 to 52 degrees at the steepest and they are only suitable for experienced skiers.
However, if you are a seasoned daredevil, you will be able to have a fantastic experience that is on par with what you get in the Alps.
Keep in mind that the weather and ski conditions on Gaustatoppen change quickly. Since the fog can also roll in fast, you must know the terrain, which is so steep that you will be unable to stop if you fall. If such an accident occurs, you run the risk of not stopping before you hit a rock. The routes are not marked here, and regardless of your skill level, you should be accompanied by an experienced guide.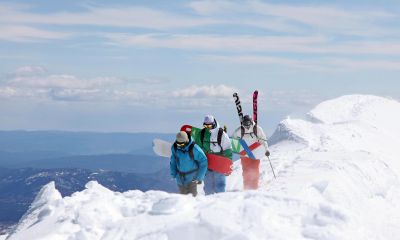 Summit skiing is very popular, and Gaustatoppen is a good choice if you want a challenging, but at the same time easily accessible, summit trip. You should only embark on such a trip if you are very familiar with Gaustatoppen. The area is at risk from avalanches, and it is hard to see from the bottom of the mountain whether snow has piled up into drifts in areas that are prone to avalanche danger.
The most common routes to the summit are from the ticket booth for the Gaustabanen tramway, Svineroi, and from the ski parking lot at the crossing with Gaustablikk Ski Centre, or from the parking lot at Langefonn.
The trip up takes around 2.5 hours, and it helps to aim for the tower at the summit as you make your way up.
Mountain safety rules
1. Plan your trip and inform someone where you will be hiking.
2. Adapt the route based on your ability and the prevailing conditions.
3. Be cautious with regard to the weather forecast and avalanche warnings.
4. Be prepared for rough weather and the cold, even on short trips.
5. Bring the necessary equipment so that you can help yourself and others.
6. Make safe choices regarding your hiking route. Identify and recognize terrain that is prone to landslides/avalanches and unsafe ice.
7. Use a map and compass. Be sure to always know where you are.
8. Turn back in plenty of time; there is no shame in turning around.
9. Save your strength and seek shelter if necessary.
Source: Ut.no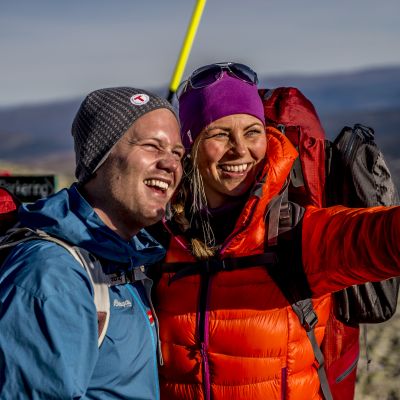 Article
Gaustatoppen mountain on foot
The trails that will take you to the top of the mountain.